Rana's Bridge of Allan Menus.

Special Set meals above are served Sunday to Thursday.


Rana's Main Menu for the restaurant s now available as a pdf download. (It's approx a 10mb file)
The full carry outs will appear here soon as a pdf file download.
LUNCH MENU
Business Lunch - £6.95 See Menu
Executive Business Lunch - £8.95 See Menu
FREE DELIVERY
- On orders over £15 (within 3 mile radius). Delivery charges apply to set meals.
- To the University campus for orders over £15. 10% Student discount(collection only) on orders over £10.
OPENING TIMES
Sun - Thurs 4pm - 10pm. Fri & Sat 4pm - 11pm
Thurs - Sat 12 to 2pm Lunch Menu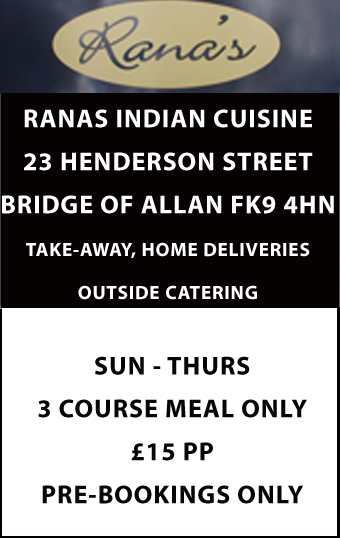 Carry Out Burgers & Kebabs